Luke is...


BIN LADEN!... He's...


OSAMA BAD LUKEN!!!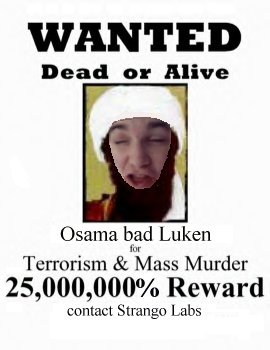 HOW WE DISCOVERED THE TRUTH!

One day Jordan and Spence were merrily chatting online when they noticed that Luke had been using the same phrases over and over in every conversation. Luke repeatedly exclaimed "go to bed!" and other things of the sort. At the time, searches for Osama bin Laden were taking place and weapons inspectors were pressuring Iraq. We put the two together, and the truth was obvious... not only is Luke a Klingon possessed by a vampire, but he is also the most wanted terrorist in the world, OSAMA BIN LADEN!!!